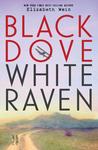 Black Dove, White Raven
by
Elizabeth Wein
My rating:
4 of 5 stars
From the time that she was five weeks old, Emilia Menotti was used to flying in airplanes. Her mother, Rhoda—the White Raven—and Delia, her mother's flying partner—the Black Raven—performed an aerial show together, barnstorming with aerobatics and wing-walking all across the United States in the 1920s. Rhoda and Delia had a bond of friendship that was unbreakable, and when Delia died in a bird strike plane crash, Rhoda decided to pursue Delia's dream of taking both children to live in Ethiopia where Teo wouldn't be discriminated against because of the color of his skin. They lived an idyllic lifestyle for a time, but when tensions arose between Ethiopia and Italy, Teo got caught up in Ethiopian laws of slavery and conscription. Soon they were all fighting for their lives and their freedom in a country that, once so hospitable, had become their prison.
From the opening letter written by Emilia Menotti to the closing letter written by Teo Cooper, readers are swept into a world of racial discrimination, political intrigue, and a time and a place that is not often discussed or analyzed in history books. Readers unfamiliar with Ethiopian history or geography may be at a disadvantage, but the author's beautiful writing and descriptive storytelling make up for readers' lack of background information.
Recommended for gr. 7-12.
View all my reviews